---
---
Can't go outside?... Bring the outdoors, indoors for your little one.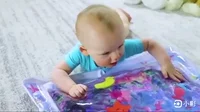 PERFECT TUMMY SPLASH ACTIVITY:

 

 

"Tummy splash helps your Infant build strength in his back, legs, arms and neck," preparing him/her to be ready to explore the world on their own."
STIMULATES BABY DEVELOPMENT:

 

 

The water fill is an essential tool for developing solid head, neck and shoulder muscles as well as honing hand-eye coordination, fine motor and social skills. It is a sensory delight that enhances brain development.
CAUSE AND EFFECT:

 

 

Enables learning about cause and effect, as the baby presses and moves the fish around from place to place
STIMULATING VISUALS:

 

 

Lots of visual colors & movement which creates fun and excitement. Great for sensory stimulation, motor skills, cognitive abilities, and social skills
Let your Baby Swim in a colourful sea world right in the middle of your living room! Looking  for a fun, stimulating and entertaining play mat? The Tummy Splash will help strengthen your baby's legs and arms while promoting the development of essential skills!
Watch as your infant enters our fish tank WONDERWORLD, wide eyed and FASCINATED by the bright colors, sharp contrasts and cute floating toys. Rain or shine is tummy splash! Your baby will try to catch and bat the brightly colored toys as they float by. The Tummy splash will provide hours of quality stimulating and healthy fun.
Simply fill the outer ring with air and the inner mat with your desired level of tap water, set it on the floor and let the fun begin! It folds easily when empty into your purse or toy bag to bring along anywhere you go.
"My daughter can't get enough of this water mat. She gets excited about a lot of toys, but this is her absolute favorite!"
- Aerica Shawnton, Customer
SSHIPPING TIMES:  7-15 Business Days
FOUR GUARANTEE:  We will do everything in our power to provide excellent service support to assist everyone as we place a high value on customer satisfaction.
GET YOURS BY CLICKING THE 'ADD TO CART' BUTTON ABOVE.